Testimonials
Take Your Leadership to New Heights With a Journey of Self-Discovery.
What the Heroes Have to Say
Way of the Hero helps the leaders of tomorrow and visionaries of any age ignite a new passion for life. When you experience our epic bike trek, you'll learn to purge fear and doubt while honing and refining your leadership and teamwork abilities. Here's what some of the heroes had to say about their own journey of self-discovery and personal awakening: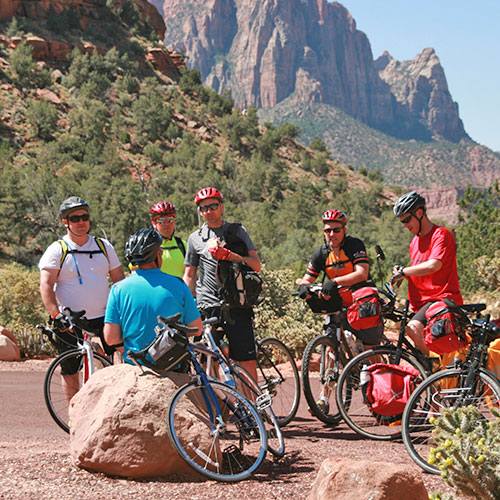 "The trek has done more for my ability to lead and empower others than any other work I have done."
Hal H., Chief People Officer, Infusionsoft
Read More
"This trek has been nothing short of spectacular. At the outer level it has allowed me to live like a kid. And at the deeper level, I experienced flow."
Piyush P., Co-Founder, Equinox
"I have been changed on this trek (and) enjoyed all aspects…including, and perhaps most importantly, the leadership program."
Doug F., Founder & Chief Architect, ZirMed
"This is the best team-builder I have ever experienced!"
Kevin K., Co-Founder of Gro-Social
"The trek helped me to slow down, see the world from a different perspective…to see the internal strength we all have within each of us and take my eye off the goal and enjoy the scenery along the way. "
Ammon C, Head of Product at Infoarmor
"Just when you think you're done and can't go anymore, make the choice to push yourself – even just a little – and you'll be surprised what you are capable of. "
Jordan H. – Fullstack Marketing Group
Read More
"There has rarely a day gone by that I haven't thought about our Spain trek. It has changed the way I think and behave. It has reshaped my life. I just want to tell you thank you."
David Fielding – VP of Client and Payer Services, ZirMed
Read More
"You'll get out of it what you put into it. Your commitment to your vision will anchor you."
"Kirk L.
Read More
"After we started the trek, I found my confidence increasing. It was amazing to let go of all the things that pulled for my attention at home, and to have more focus and clarity. Many days I felt so connected to my bike that it felt odd to get off of it."
Beth U. – doTERRA
Read More
"The money I put out was very small compared to what I gained on this trek."
Mike P. – Senior Director, ACBL